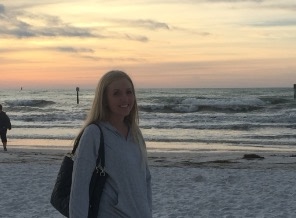 "As far as new employees, Jenny was the easiest person to train, EVER," said Jason Webb, owner of Webb Insurance Agency.

Jenny Holm is a young, pleasant 27-year-old from Albertville, MN. After graduating, she worked in retail management for about five years. Working nights and weekends can take its toll on anyone, so Jenny took a position at a local American Family Insurance agency. Her main motivation was to find a job with more sane hours, but ended up finding a career that she's passionate about. Jenny is very easy to get along with, is a super-fast learner, and extremely responsible. She was like a dream come true for Webb Insurance Agency.
"Being able to help people understand their insurance coverages is what I enjoy the most. Insurance can be very confusing and many people have no idea how insurance works or the type of coverage they need," said Jenny.
After a year at American Family, Jenny came over to the Webb Agency, and we couldn't be happier.
On a more personal note, together with her fiancé, Jenny is planning her Florida destination wedding to take place in November 2016.
When she's not busy with wedding planning, Jenny enjoys taking her black lab, Wilson, for walks; listening to music; cooking and SNOWBOARDING! Yes, quiet, unassuming Jenny likes to tear up the slopes on her snowboard.
Jenny also loves children. She's looking forward to starting a family of her own and loves her three-year-old niece, Mylah, dearly.
Jenny has been with the Webb Insurance Agency for almost two years now and is a wonderful addition to the team. She is a licensed P & C agent and works as a personal account manager. If you have a question on your current policy or need to make a policy change, Jenny is the one you need to speak with.
To contact Jenny Holm:
Jenny@WebbInsuranceAgency.com
Direct: 612-643-3521